Top Ten Uses for Crushed Rock
Over the years, we have discovered many applications for our steel slag. Our customers use it for driveways, landscaping backyards, parking lots, industrial storage yards, trench backfill, chip and seal roads, roadbase, asphalt, Riprap, culverts and tornado shelters.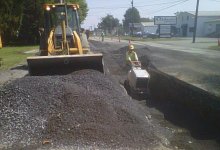 Trench backfill
For construction projects involving trench or ditch backfill.

Customer Testimonial "My neighbour suggested we use slag to save money on the ditch back-fill - I was really surprised at how inexpensive it was, and it has performed really well to this day".
Sam P, Middletown PA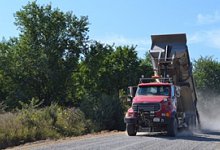 Roadbase
Our PennDOT approved 2A aggregate material is available in the Harrisburg PA area. Harsco maintains all necessary State and Environmental certifications from DEP, EPA, and the State Department of Agriculture.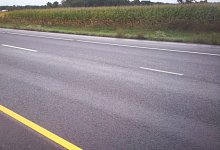 Asphalt roads
Graded steel slag is used as an aggregate in asphalt production, as an alternative to limestone. The demetalled material is crushed and screened to fit the specification for DOT approval. Unlike limestone, steel slag resists polishing and therefore has better skid resistance and lengthens the life of the road surface.
The pictures below show two sizes of crushed and screened steel slag ready for asphalt production.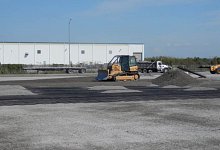 Industrial storage yard - heavy duty paving
When used in combination with a polymer membrane, steel slag makes an excellent material for covering industrial storage yards trafficked by heavy duty vehicles. In this example at Tenaris Hickman (AR), the surfacing provides exceptional resistance to abrasion caused by tire scrub from earth moving equipment. This solution was chosen ahead of asphalt or concrete paving.